Aloha Sewing for Seva Gifts
What is Seva?
Seva is defined as selfless service for the betterment of a community. Johanna Waters of Maui Massage and Yoga has created Seva gift options to benefit Buds to Blossoms. As a participant in the Buds to Blossoms Pediatric Massage Volunteer Program, I will soon travel to Nepal. There I and my fellow volunteers will provide gentle massage to AIDS orphans, other children affected by HIV/AIDS, and orphans with disabilities to foster their health, well-being and development. The massages I give will strengthen the children's immune systems, relieve their pain and anxiety, and help meet their needs for one-on-one nurturing attention and touch. Donations or purchases of these gifts are tax deductible. Go to here to make a donation.
Ordering options: These gifts can be mailed with a reasonable shipping fee. Call or email Johanna (info@johannawaters.com, 808-214-0129) to order. You can purchase any of these gifts by making a tax deductible donation to Buds to Blossoms fundraiser, budstoblossoms.org/johannaw, or by cash, credit card or check directly to Johanna.
Eye pillows
These relaxing eye pillows provide the perfect weight on your eyes to eliminate bright lights as you relax in savasana or during your massage. They also help alleviate headaches. Handmade, of course and filled with organic flax seed. Make a donation of $12 to my Buds to Blossoms fundraiser.
Bulk bags/gift bags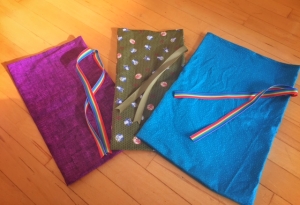 These reusable bags are great to save on plastic for refilling you grains, nuts, beans etc. or use it as a gift bag. $15 donation to Buds to Blossoms Go to here to make a donation.
Zipper bags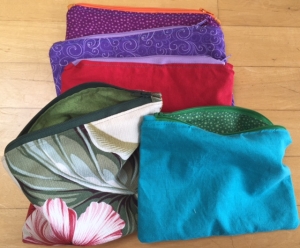 Zipper bags with Hawaiian prints! These zipper bags have an inner lining and tabs by the zipper to make it last longer. They average about 8.5 inches long and height around 7 inches. A great all purpose gift. Make a tax deductible donation to my buds to blossoms fundraiser. $15 donation.Go to here to make a donation.