Johanna Waters, Maui massage therapist and yoga teacher
Johanna Waters' massage practice and yoga teaching is focused on providing clients with a peaceful and positive experience that extends into other avenues of their lives. Johanna enjoys blending different massage modalities to create therapeutic results and increase mental and physical relaxation. She has been practicing the healing arts for for the past thirty years. Her focus has been blending technical and intuitive abilities/modalities to customize for the individual, depending on their activity and needs. Johanna teaches public and private yoga classes. The Yoga and massage blend well together to bring more length in the muscles. The intention of Johanna's work is to reduce pain and stress. Both her massage and yoga practice are therapeutic and compassion based.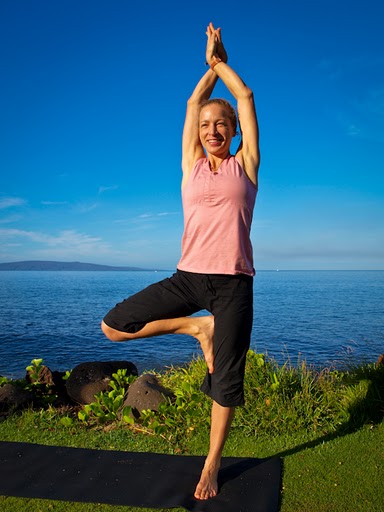 In addition to her private practice she has worked in resorts, hotels, wellness centers and chiropractic offices both in Hawaii and on the mainland.
Johanna is Hawaii state licensed (LMT#5003) and a member of the American Massage Therapy Association. She is a 1,000 hour Kripalu Certified yoga teacher. She has studied yoga and meditation in India with a variety of teachers as well as at Kripalu Center for Yoga and Health, 1440 Multiversity, Esalen Institute, Mount Madonna Center, Spirit Rock Meditation Center and White Lotus Yoga Foundation.
Johanna loves to continue to learn through a variety of teachers to improve her work and ability to help reduce the symptoms of stress and pain and increase the benefits of relaxation in mind and body.
Her other interests include meditation, whole food plant based cooking, paddle boarding, photography, watercolors, crafts, biking, hiking, reading and spending time with her cats "Bodhi" and "Scout".
Johanna is a member of the Maui Sierra club and The Vegetarian Society of Hawaii. She regularly donates to local and global environmental fundraisers like Women Helping Women Maui, Maui Humane Society, National Coalition Against Domestic Violence and 350.ORG.