Johanna Waters, Maui massage therapist and yoga teacher
Johanna Water's massage practice and yoga teaching is focused on providing clients with a peaceful and positive experience that extends into other avenues of their lives. Johanna enjoys blending different massage modalities to create therapeutic results and increase mental and physical relaxation.  Her focus has been therapeutic massage that is customized to the individual depending on their activity and needs. Johanna teaches public and private yoga classes. The Yoga and massage work blend well together to bring more length in the muscles. The intention of Johanna's work is to reduce pain and stress. Both her massage and yoga practice are compassion based.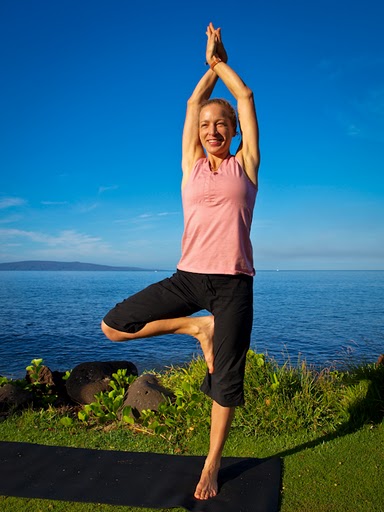 Johanna has been practicing massage therapy and body work since 1998. In addition to her private practice she has worked in resorts, hotels, wellness centers and chiropractic offices both in Hawaii and on the mainland.
Johanna is state licensed and nationally certified as a massage therapist and a member of the American Massage Therapy Association. She is a 500 hour Kripalu and Yoga Alliance certified yoga teacher and a member of the Kripalu yoga teachers association.  Johanna is currently working on completing Kripalu's 1,000 hour yoga teacher training. She has studied yoga in India with Vinay Kumar of Prana Vashya Yoga.
Johanna has completed Yoga of the Heart Cardiac and Cancer Certification Training, consisting of training in the specific application of yoga for clients with cardiac, cancer and other life-threatening diseases. She also has a certificate in positive psychology through the Whole Being Insitute and is a certified Ananda Meditation teacher. Johanna loves to continue to learn through a variety of teachers to improve her work and ability to help reduce the symptoms of stress and increase the benefits of relaxation in mind and body.
Johanna holds an ongoing fundraiser for Women Helping Women Maui, where she sells handmade yoga straps and eyepillows (profits donated to WHW Maui). She is also a volunteer for Hospice Maui.  Her other interests include meditation, wholefood plantbased cooking, paddle boarding, sewing, iphoneography, dog walking  and reading.